Welcome To
Tenfold Fair Trade Collection
Tenfold is a curated fair trade shop with an upcycled twist, where your everyday purchases have the power to create lasting social change.
People Over Profit
A place where your purchase supports resourceful artisans around the world by providing a fair living wage through the production of handicrafts.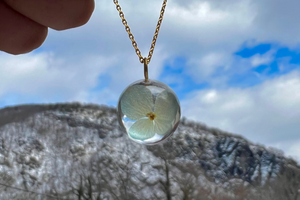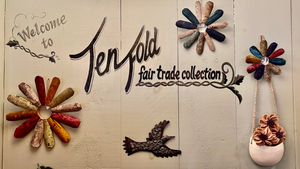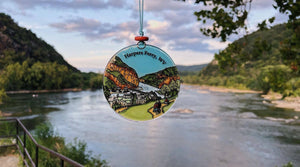 Our Commitment
We are committed to providing fair income and employment to
disadvantaged artisans and producers and helping our customers spend their
shopping dollars in ways that empower people and communities around the globe.
Handmade
Our products are handcrafted by disadvantaged artisans who benefit from using their skills to earn a sustainable and fair income.
Fair Trade
Our products are fair trade which means your purchase supports fair wages, gender equity and safe and dignified working conditions.
Eco-Conscious
We work with ethical brands that share our passion for protecting the environment and preserving earth's natural resources.
Consciously Fashionable
Shop our collection of fair trade, eco-friendly organic cotton, hemp, and sustainable materials, some made from recycled plastic bottles. Our fair trade partners at GOEX Apparel have helped us develop some awesome custom Harpers Ferry Sweatshirts and Tee Shirts.
FEEL GOOD. DO GOOD.
Shop Now
"We found shelter in this magical place, full of treasures."
"This shop is magical; was on a trip to this region and was lucky to pop in.  Store larger than appears from the outside.  Lots of hand picked items from all over the world, prices were reasonable and had such a great selection of items!  Will be buying from their website at some point soon!"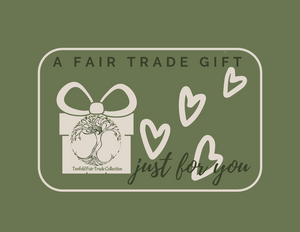 Tenfold Fair Trade Gift Card
Not sure what to gift your conscientious loved one?
Let them choose from our array of ethical, handmade, sustainable gifts with a Tenfold Fair Trade Collection Gift Card.
Gift cards are delivered by email and contain instructions to redeem them at checkout. Our gift cards have no additional processing fees. and may be redeemed online or in store.
Shop Gift Cards
Our friend's at MZ Fair Trade strive to preserve the beautiful traditions and artistry of the Zapotec people by connecting them with socially conscious consumers.
You can be confident that your MZ Fair Trade bag or tote will become your daily go to and will last for years and years.